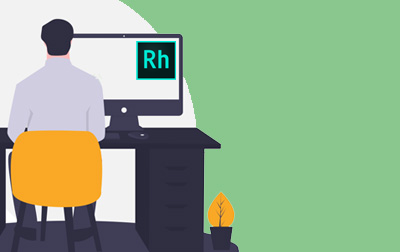 Adobe RoboHelp 2020 Training
Course Length: 3 days
Delivery Methods
:
Available as private class only
Course Overview
In this Adobe RoboHelp 2020 training class, you will learn the essential RoboHelp skills needed to create and deliver user assistance (software/application help systems, operations manuals, policies, and procedures... the list is endless).Through step-by-step instructions, you will go through the process of creating new RoboHelp projects and topics from scratch.
Course Benefits
Learn to import content from Microsoft Word and HTML files.
Enhance your topics with graphics, expanding hotspots, and interactive multimedia (using eLearning content created in Adobe Captivate).
Improve the navigation of your content by adding hyperlinks, indexes, and glossaries.
Increase your production efficiency by learning about, creating, utilizing, and editing cascading style sheets, variables, snippets, conditional build tags and expressions, master pages, and output skins.
Learn how to control the look of final output via Skins and presets.
Deliver content that can be consumed on any kind of device including desktops, laptops, smartphones, and tablets by generating output files such as Responsive HTML5, Frameless, HTMLHelp, and even eBooks.
Course Outline
Introduction to Adobe RoboHelp

Open an Existing Project
Set the RoboHelp Application Theme
Explore Project Content
Create, Edit, and Delete a Topic
Explore a TOC and an Index
Browse the Outputs
Output Frameless Output
Output Responsive HTML5 Output
Output an eBook
Output Microsoft HTML Help

Creating Projects

Create a New Project
Create a New Topic
Rename and Delete Topics
Import HTML Files
Import Word Documents
Edit Text Formatting in Source View

Project Structure, TOCs, and Styles

Create Project Folders
Create a TOC Book
Auto-Create a TOC
Edit Book Names and Reorder Pages in a TOC
Attach a Style Sheet to a Topic
Apply Paragraph Styles
Create a Style Sheet
Remove and Apply a Style Sheet
Create and Apply a Character Style
Format a Bulleted List

Links

Link to a Word Document
Insert Hyperlinks
Insert Bookmarks
Insert Auto-Sizing Popups

Images and Multimedia

Insert an Image
Add Alternate Text and an Image Title
Add Hotspots to a Graphic
Import Captivate Demos into a Project
Insert Captivate Demos into Topics
Create Drop-Down Text

Tags, Expressions, and Variables

Create a Condition Tag
Apply a Condition Tag
Create a Condition Expression
Apply Topic-Level Tags
Create Dynamic Content Filters
Create a Variable
Work With Snippets

Tables, Indexes, Search, and Glossaries

Insert a Table
Work With Table Styles
Add Index Keywords from Within a Topic
Edit Multiple Topic Properties
Create a See Also Keyword
Insert a See Also Placeholder into a Topic
Add Custom Search Terms
Add a Search Synonym
Add Glossary Terms

Skins and Master Pages

Add a Favicon and Select a Default Topic
Modify a Home Page Tile Image
Change the Logo Used on the Home Page
Create a Master Page
Edit a Master Page

Windows, Browsing, and Context Sensitive Help (CSH)

Create a Custom Window
Create a Browse Sequence
Test an API Call for Help
Publish an Output
Review CSH Source Code
Create a Map File and Assign Map IDs
Class Materials
Each student will receive a comprehensive set of materials, including course notes and all the class examples.
Request a Private Class
Private Class for your Team
Online or On-location
Customizable
Expert Instructors
Request Pricing