Applying the Design Rules
Duration: 15 to 25 minutes.
In this exercise, you will apply the new rules you just learned, and also add a touch of your own creativity as well! Build a typography plan for three case studies listed below. Read each case study and fill out the form below answering questions for each case.
Case #1:
Round Rings Inc. is a wholesale company providing class rings for schools.
Case #2:
You have received a request from an existing daycare facility named ABC Childcare. They are interested in promoting to gain new clients and keep existing clients as well. They have mini trips throughout the year that encourage education. Their needs are a public-facing website and a set of marketing materials (brochure, business cards, billing forms). They already have a logo to work with and have sent you a copy (located below). Build a color scheme that will help this client.
Case #3:
You have received a request from a new high-end women's clothing store that specializes in vintage clothing. They will have a store front that will also need a look and feel. They have requested store front decor, public website, and business cards. They have provided their logo.
Questions: You may write this out or use a tool such as a word processor. (See sample form in Microsoft Word rules-for-typography\Exercises\PlanFile.docx
Based on the company backgrounds and logos, what fonts would you choose for the following?

Website:

Headings -
Body paragraphs -
Special photo captions -

Print:

Headings -
Body paragraphs -
Special photo captions -

Website layout: sketch a rough mockup of what you think the layout of the site should be.
Print layout: sketch an idea of what the newspaper ads and marketing postcard may look like.
See scanned samples below for inspiration.
Case #1: Round Rings Inc.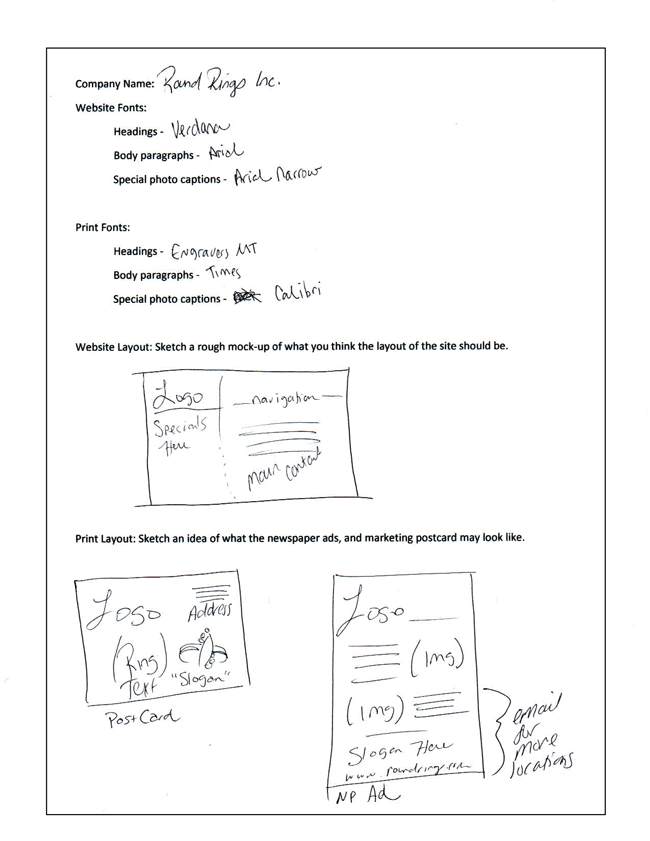 Case #2: ABC Childcare
Case #3: Lovely Lace