Tabs, Groups, and Commands
Tabs
Microsoft PowerPoint is a robust program which is used to create many different types of presentations, including charts and diagrams, flyers, invoices, and much more. Microsoft PowerPoint has hundreds of commands for working with different presentations. To make it easier for users to find the specific commands they are looking for, commands are organized onto eight main tabs:
Home. The Home tab includes commands for formatting presentations.
Insert. Use the Insert tab to insert tables, clip art, pictures, links, headers and footers, and more.
Design. Use the Design tab to change your page setup, slide orientation, fonts, background styles, and more.
Transitions. Use the Transitions tab to add transitions to a slide and to customize transition effects.
Animations. Use the Animations tab to add animation to text in a slide and to manage the animation order.
Slide Show. Use the Slide Show tab to finalize the slide show details, timings, and more.
Review. Use the Review tab to check spelling, to collaborate by adding comments, and to access editor tools.
View. Use the View tab to access the various presentation views, to show and hide the ruler and grid lines, and more.
Note that the File tab is not a typical tab. The File tab takes you to the Backstage view where you manage, rather than make changes to, your document. The Backstage view is covered in the next lesson.
Tool Tabs
In addition to the main tabs, there are numerous tool tabs which include less commonly used commands. Individual tool tabs are covered in detail in the advanced Microsoft PowerPoint class. For now you should know:
That they exist. Some of the most commonly used tool tabs are:

SmartArt
Chart
Drawing
Picture
Table
Header & Footer

That they will appear when you select commands which have related tool tabs. For example, when you insert a table, two table-specific tool tabs (Design and Layout) appear:
Groups
Functionally related commands in PowerPoint are organized in groups on each tab. The following table lists the groups found on each tab:
Tab
Group
Home

Clipboard
Slides
Font
Paragraph
Drawing
Editing

Insert

Tables
Images
Illustrations
Links
Text
Symbols
Media

Design

Page Setup
Themes
Background

Transitions

Preview
Transition to This Slide
Timing

Animations

Preview
Animation
Advanced Animation
Timing

Slide Show

Start Slide Show
Set Up
Monitors

Review

Proofing
Language
Comments
Compare

View

Presentation Views
Master Views
Show
Zoom
Color/Grayscale
Window
Macros
In some groups, you will see a button in the lower right corner next to the group name. This is the dialog box launcher. Opening a group's dialog box gives you access to additional commands associated with the group: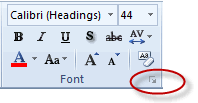 Commands
Commands are controls that enable you to accomplish specific tasks, such as bolding text, adding a list, inserting a picture, or adding slide numbers.