Schedule a Meeting
You can use Outlook's Calendar to schedule meetings with colleagues.
To schedule an Outlook meeting:
In Calendar view, from the Calendar Ribbon, on the HOME tab, in the NEW group, select New Meeting.
In the To field, enter the invitees' email addresses.
Press Tab to move to the Subject field.
Enter a meeting subject, and press Tab to move to the Location field.
Enter a location for the meeting. If you are using Outlook associated with Exchange server, you can use the Room Finder feature to locate a room, by selecting Room Finder in the Options group of the MEETING tab.
Set a start time using the Start time day and time drop-down arrows.
Set a meeting end time using the End time day and time drop-down arrows.
If desired, enter a message in the body of the invitation.
If the meeting is a recurring meeting, from the MEETING tab of the meeting, select Recurrence in the Options group.
Configure the options in the Appointment Recurrence dialog box and click OK.
To send the invitation, click Send.
You can use the Scheduling Assistant to view your invitees' calendars while scheduling a meeting. In the Show group of the MEETING tab, select Assistant.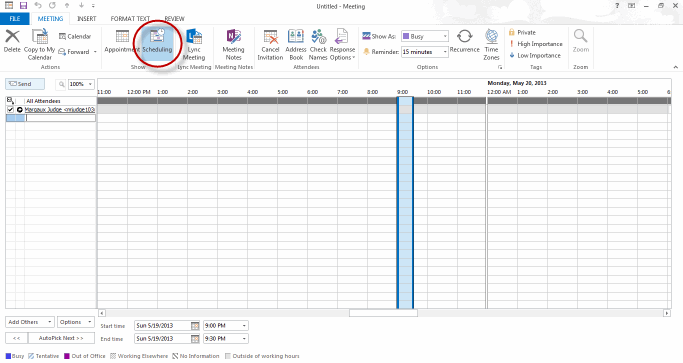 Schedule Resources
You can schedule resources for your meetings, such as equipment and rooms, in Outlook.
While in the meeting invitation, select Scheduling from the Show group.
In the left column, enter the name of the resource.
In the second column, click the drop-down arrow and select the green house icon to indicate the resource.
Set Calendar Item Importance
You can set a priority for a calendar item much like you do for email messages, to allow recipients to categorize meetings.
To set a priority for a meeting:
While in the new invitation, select an item in the Tags group of the MEETING tab of the Ribbon. Choose from Private, High Importance, or Low Importance.
Schedule a Meeting from a Message
You can schedule a meeting from an email message.
To schedule a meeting from a message:
Open the message.
From the Respond group of the MESSAGE tab, select Meeting.
Enter the meeting information, date and start and end times, and add recipients if need be. The original message appears in your meeting invitation.
Click Send to send the meeting invitation.