Google Analytics Code Snippets
Introduction to Google Analytics Tracking Code (GATC)
Google Analytics uses a JavaScript along with first party cookies to track the online activities on web pages.
In order to effectively track a visitor's behavior, it is recommended that you tag every page on the website with the Google Analytics tracking code.
Google recommends that you do not include both the newer and older tracking code snippets together on any given page. Doing so could generate inaccurate data.
Activating Tracking and Tagging Pages
From the Account Home page, click the gear icon to load the Account Administration page. Click the link for an appropriate account (e.g., Remote Course).
Click the link for the web property within the account (e.g., www.remotecourse.com/).
From the Profile drop-down list, select the appropriate profile.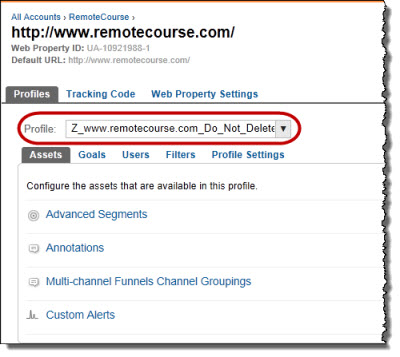 Select the Tracking Code tab and scroll down to the set-up instructions. For this class, use the settings shown in the following screen shot.
Note: Your tracking code will vary based on which account, web property, and profile you select.
Copy the code block above into every webpage you want to track immediately before the closing body tag. Please note: Google recently changed this suggestion and the screenshot above mentions their previous suggestion. It is now recommended to place before closing body tag.
Note: You have several configuration options depending on what you want to track and how you want to track it. We will discuss these in brief during our online session.