Webucator's Free Introduction to Google AdWords Tutorial
Lesson: Introduction to Google AdWords
Welcome to our free Introduction to Google AdWords tutorial. This tutorial is based on Webucator's Introduction to Google Ads course.
Lesson Goals
How to sign up for Google Adwords
Key features and capabilities of Google AdWords
Google AdWords account structure.
Google AdWords billing options
Account Setup: Part I
Duration: 15 to 20 minutes.
Create an appropriate account structure for the following businesses:
A parent company opens a subsidiary which provides services in three primary areas: online technical training, online business training, online consulting. Structure your Google AdWords account appropriately.
An online electronic store has different product categories, such as TVs, Home Theater Systems, and Video Games. They also have services arm which provides maintenance and recycling services for electronic items. Structure your Google AdWords account appropriately.
Solution 1: There are multiple ways to achieve the above task. Here is the recommended way:
Create a separate AdWords account for your subsidiary.
Create three different campaigns based on individual services offered. Label your campaigns as Tech Training Campaign, Business Training Campaign and Consulting Campaign.
Within each campaign create different Ad Groups (e.g., the Tech Training Campaign can have Ad Groups for HTML Training, Java Script Training, etc.).
Solution 2: There are multiple ways to achieve the above task. Here is the recommended way:
Access Management
AdWords offers different levels of account access to help you share access to your account with others while protecting your information.
Use the following steps to grant access to an external user:
Within your AdWords account click on the gear icon, Account settings tab.
Click the Account Access menu.
Enter an email address for another user.
It is recommended that you provide the name (optional), since it is easier to identify a person by name than an email address.
Choose the access level (e.g., administrative, standard, read only, or emails only)
Here are the different access privileges available within Google AdWords:
Administrative: highest level of access, complete access of your account.
Standard: access to most account features.
Read only: can view and run reports.
Emails only: can receive email reports only.
Getting Started with Google AdWords
Step 1: Signing Up for Google AdWords
You can access the Google AdWords home page at the following web address: http://www.google.com/adwords.
You will need a Google username for using the Google AdWords. If you have a Gmail account then you can use your Gmail username, or if you choose to create a new Google username for the AdWords service, then you may do so by clicking on the Start now button shown in the following screen shot:
You will be taken to the Create Google Account page, where you can choose the user name and password you'd like to use with AdWords.
Step 2: Set Time Zone and Currency
In this step, you need to define your time zone (from where you operate Google AdWords account) and the currency in which you will pay for your ads.
Note: Time zone and currency settings can't be changed after you setup your account.
Step 3: Verify your account
During step 1, if you decided to use the existing Google account (e.g. your Gmail account) to create an AdWords account then you do not need to follow this step. However, if you created a new Google account for AdWords then you will be required to verify your account.
After verifying your account with Google you will be able to sign in using your username and password.
Step 4: Activating Your Account
You can use your AdWords account (e.g. create campaigns, create Ads, etc) without activating your account. However, your ads won't run until after you provide billing details, which is a required step for activating your account.
In order to activate your account, follow these steps:
Select the gear icon, Billing tab, and click Billing preferences.
Choose the country or territory where your billing address is located and click Continue.
Choose your payment method (Postpay or Prepay). Choose the method you want by using the radio buttons and then click Continue.
Agree to the AdWords terms and conditions and then click Continue.
Enter your billing information (i.e. credit card details) or use promotional code.
Click Save and Activate.
Note: There are one time account activation fees. Account activation fees and payment options vary according to the currency you use and the location of your billing address.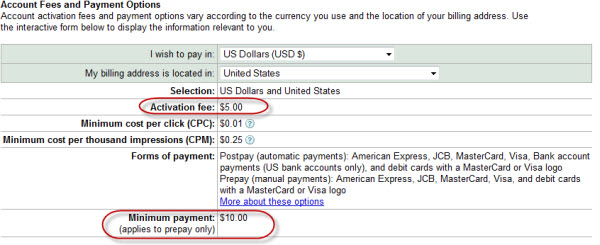 Navigating through Google AdWords
User Interface Elements
The home tab shows an overview of how your account is performing and has the following sub-components to it:
Alerts and Announcements: this is where AdWords will post any critical alerts or updates pertaining to your account. You will see a notification on the top right of the screen whenever you have alerts.
Performance: this is where you will see an overview of your account performance, based on the time period selected.
Active Campaigns, Ad Groups, and Keywords: shows summary of all active performance metrics.
Non-Active Campaigns, Ad Groups, and Keywords: shows summary of all non-active performance metrics.
Campaigns Tab
Campaign Tab acts like a platform from where you can manage all your campaigns. This is the tab where you will probably spend most of your time within AdWords.
Campaigns tab has three main areas: campaign tree, navigation tabs, and stats area as shown in the following screen shot.
Opportunities Tab
The opportunity tab offers suggestions and tools to help you improve your account. For example, keyword suggestions, bidding suggestions, and ads diagnostic tools are just a few examples of different options available in this tab.
Billing Tab (under account preferences)
All information related to billing can be found in the Billing tab by clicking on the Billing Summary tab. This is where you will come to see your current account balance and the history of your payments.
Also, if you need to change your billing information, such as credit card number, or you want to add a backup payment method, then you will use the Billing Preferences option available in this tab.
My Account Tab (under account preferences)
This tab allows you to manage administration of your account including changing account preferences, editing notification settings, and granting access to other users.
Access Management
Duration: 15 to 20 minutes.
Your company has decided to do an online marketing campaign and has hired an external online marketing firm. The new marketing firm has asked for access to your Google AdWords data. Please implement this task in your Google AdWords account.
Allowing External Firms to Access Google AdWords Data:
Within your AdWords account click on the gear icon, Account settings tab.
Click the Account Access menu.
Enter an email address for another user (e.g., marketing@gmail.com).
It is recommended that you provide the name of the contact person (optional).
Choose the Read Only access level.
Quiz
Duration: 10 to 15 minutes.
Please answer the following questions:
Possible Status Messages for AdWords Account are:

Active, Paused, Deleted.
Inactive, Error, Collecting Data.
Active, Unknown, Suspended.

Google AdWords allows you to define customized alerts:

True
False

You can compare campaign performance without leaving the home tab:

True
False
Active, Paused, Deleted
True
True
Understanding Google AdWords Account Structure
Account organization in Google AdWords should be aligned with your marketing strategy. Proper account organization is important to effectively manage your campaigns, budget, and targeted ads.
AdWords Account
An AdWords account should represent an individual business. If you have multiple businesses or clients for which you manage AdWords account it is highly recommended that you create a separate accounts for each business or client.
Campaign Level
A campaign represents a marketing initiative in a particular area within your business (e.g., sell more services vs. products). Campaigns allow you determine budget, language setting, geo-location targeting, etc. If you have different marketing budgets or you need to target your ads to different demographics, then based on these varying conditions you should create different campaigns.
AdGroups Level
Ad groups represent collection of keywords with a common theme. Ad groups can also contain different versions of the ads. For example, if you are selling different products such as LCD TVs and audio systems then you should create different ad groups.