Webucator's Free Introduction to Google AdWords Tutorial
Lesson: Integrating Google Analytics with Google AdWords
Welcome to our free Introduction to Google AdWords tutorial. This tutorial is based on Webucator's Introduction to Google Ads course.
Lesson Goals
How to integrate Google Analytics with your AdWords account.
How to analyze Google Analytics Reports for AdWords.
How to filter out Google AdWords Data into a separate profile.
Tracking Online Marketing Campaigns through Google Analytics
Google Analytics can track visits and conversions coming from your online marketing campaigns in AdWords. It's a two step process: First make the following changes in your AdWords account:
Navigate to your Tools tab, then click on Linked accounts.
Click the Google Analytics and connect your Google AdWords account with your Google Analytics account. Note that you need to be using the same Google email address.
Click Save.
Second, make the following changes in your Analytics account:
Within your Google Analytics account, click on Admin, and then choose your desired account.
Under the desired account, click on AdWords Linking.
Choose + New Link and choose the desired AdWords account to link to.
To finalize, choose Link Configuration and then decide the appopriate one.
Choose Link accounts to complete.
See the attached screenshot for complete Google Analytics setup.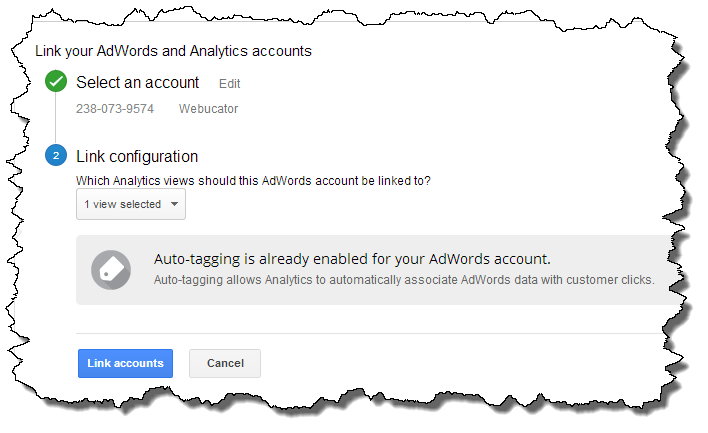 All your AdWords data (impressions, clicks, cost) will automatically be imported into your Google Analytics account.
Introduction to AdWords Reports in Google Analytics
AdWords Reports in Google Analytics convert raw data into presentable information. In addition, Google Analytics provides an interactive segmentation which enables you to reorganize the data on the fly.
Overview of Report Structure
AdWords impression cost, position, and click-through data are fetched from your Adwords account once per day.
| Report Name | Explanation |
| --- | --- |
| AdWords Campaigns | Campaign level information. Helps in analyzing the traffic coming from each campaign. |
| Keyword Positions | Indicates position of your AdWords ad when the visitor clicked it. |
| T.V Campaigns | Allows you to view and compare Google TV Ads campaign metrics with regular Web site metrics. |
| Keywords (Beta) | Allows you to analyze the correlation between bid terms and search terms. |
AdWords Campaigns Report
Organization of data in this report directly reflects your AdWords account structure. This report is fully interactive; i.e., you can use dimensions/subdimensions, etc. for slicing and dicing your data. For each specific campaign you can analyze its performance in number of ways. For example, you can
Compare the site usage (visits, pages/visit, etc) with respect to regular site traffic.
Review the correlation between various site goals
Study the impact on ecommerce activities (transactions, revenue, etc.).
In the above screen shot, notice that the campaign data is segmented using Visitor Type (i.e., based on New or Returning Visitors). We will discuss other reports during the course.
Filtering AdWords Related Data in Google Analytics
Introduction to Custom Filters in Google Analytics
Google Analytics allows you to filter some portion of your data into separate buckets called profiles. As best practice, it is recommended that you create a separate profile for your AdWords related data. Here is how you can filter only AdWords data into a separate profile:
Create a new profile and name it AdWords Traffic.
Create a new custom filter, with type = Include.
Filter Field = Campaign Source.
Filter Pattern = google.
Case sensitive = no.
Apply this filter to the newly created profile named AdWords Traffic.
Create another custom filter with type = include.
Filter Field = Campaign Medium.
Filter Patter = cpc.
Case Sensitive = no.
Apply this filter to the same profile.