Webucator's Free Responsive Web Design Training Tutorial
Lesson: HTML5: Mobile Specific
Welcome to our free Responsive Web Design Training tutorial. This tutorial is based on Webucator's Responsive Web Design Training course.
In this lesson, we'll investigate a bevy of handy new HTML5 features well suited for use on mobile devices, from form elements to local storage.
Lesson Goals
Learn how to use new HTML5 form input types on mobile devices.
Learn how to use new HTML5 form input attributes.
Forms
Our mobile sites will need to accept user input - registration forms, comment forms, and the like to ask users to send us, via form fields, some information. HTML5 makes available a set of new form input types and attributes that enhance the user experience. Keep in mind that adoption for some of these new features is spotty at best; we'll cover the better implemented options.
There are 13 new input types:
search
tel
url
email
datetime
date
month
week
time
datetime-local
number
range
color
We'll concentrate on a few of the more useful types for mobile.
Telephone
The tel type input expects a phone number. Many phones will present a numeric keyboard: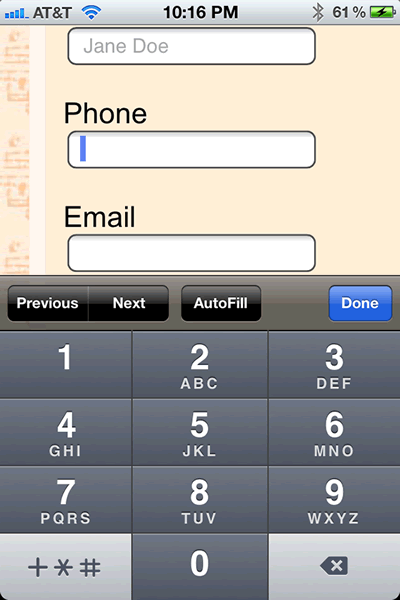 Dates
The date type of input allows the user to enter a date with no time zone. Some smartphone browsers present a date picker when a field of type date receives focus. iPhones with iOS version 5 or later, for instance, offer a date picker - earlier versions do not.
Email
Fields of type email expect a valid email address. Many phones will show a contextually appropriate set of characters for input; the iPhone, for instance, displays the "@" character:
Web Address
Fields of type url are for entering full website address. This field type excludes invalid characters for a URL, such as a space. Many phones will show a contextually appropriate set of characters for input; the iPhone, for instance, displays the ".com" key:
New Field Attributes
The placeholder attribute is among the more useful new HTML5 field attributes: it allows us to specify an example value for the field, a value that disappears when the user begins to enter content in the field.
The required attribute is very useful for forcing the user to fill out a field.
A Jazz Calendar Registration Form
Let's create a simple registration form for the Jazz Calendar site. Open HTML5MobileSpecific/Demos/forms.html in a mobile browser - this is page from which the above screenshots were taken.
We use a placeholder value for the first ("name") field, and ask the user for information of type tel, email, url, and date.
Local Storage
Like cookies, HTML5 local storage offers a mechanism for storing key/value pairs locally, within the client browser, even after you navigate away from the page, close the browser, etc. Unlike cookies, these data are never sent back to the server.
In addition, HTML5 offers session storage - similar to local storage, session storage persists between page requests, but does not persist after the browser is closed.
We use HTML5 web storage to store key/value pairs. Browsers typically limit the amount of client-side storage space allocated to a single domain to 5 megabytes and throw a QUOTA_EXCEEDED_ERR exception if you try to store more than that.
Here are the JavaScript methods and properties for working with web storage:
Web Storage Methods & Properties

| Method/Property | Description |
| --- | --- |
| length | Holds the number of key/value pairs |
| setItem(key,value) | Creates or updates a key/value pair |
| getItem(key) | Gets the value of the specified key |
| key(n) | Returns the nth key. Useful for iterating through key/value pairs |
| removeItem(key) | Removes the key/value pair for the given key |
| clear() | Removes all key/value pairs |
Local Storage Example
Let's look at a simple page on the Jazz Calendar site - open the file HTML5MobileSpecific/Demos/storage.html in your browser:
Enter "Jane" for the Name 1 field and "Abby" for the Name 2 field.
Click the Save button.
Close and reopen the browser.
Click the Update from Saved button to see the stored values replaced.
Registration Form for Pickup Soccer
Duration: 20 to 30 minutes.
In this exercise, you will create a registration form for the Pickup Soccer site:
Open the file

HTML5MobileSpecific/Exercises/soccer/index.html

in your file editor and in your browser.
Add a form and input fields for name, phone, email, website URL, and date of birth - choose the appropriate input type for each.
Allow the user to save his or her values in the form using web storage: Save saves the entered data, and Restore from Saved repopulates the fields with saved data.
Check your work with a mobile browser.