Tracking Changes
Change tracking allows you to easily see changes that have been made in a workbook, including who made them and when they were made. Change tracking is most commonly used in workbooks that are edited by multiple people. Another common use is to turn change tracking on before giving a workbook to others for their input so you can easily see exactly what each person changed.
Things you should know about tracking changes include:
When you turn change tracking on, your workbook becomes shared, meaning multiple people can edit the workbook at the same time.
Some features are not available in shared workbooks and so are unavailable when change tracking has been turned on. These features include:

Charts
Conditional formats
Data validation
Hyperlinks
Macros
Merged cells
Outlines
Pictures
PivotTable reports
Subtotals
Workbook and worksheet protection

By default, change history is only kept for 30 days, though this can be changed.
When you turn off change tracking, you delete the change tracking history. If you want to keep it, save it to another sheet or file before turning off change tracking.
To track changes in Microsoft Excel:
On the REVIEW tab, in the Changes group, click the Track Changes command:
Click Highlight Changes:
In the Highlight Changes dialog box:

Check the box to the left of Track changes while editing. This also shares your workbook.
Choose which changes to highlight. The default is to highlight all changes, but you can choose to highlight only those you haven't reviewed, changes made since you last saved, or changes made since a specified date.
Choose whose changes to highlight. You can select everyone, everyone but yourself, or specific people with whom the workbook is shared.
To highlight changes on the screen, check the Highlight changes on screen box.
To see a list of changes on a separate worksheet, check the List changes on a new sheet box. Note that this option is only available after changes have been made.
Click OK:
Accepting or Rejecting Changes
To accept or reject changes in Excel:
On the REVIEW tab, in the Changes group, click the Track Changes command:
Click Accept/Reject Changes:
In the Select Changes to Accept or Reject dialog box, select which changes (based on when they were created, who created them, or specified cells) you want to accept or reject and click OK:
In the Accept or Reject Changes dialog box, you can accept or reject individual changes or all changes at once:

After accepting/rejecting changes, the History sheet goes away. You can show it again by clicking Track Changes > Highlight Changes. Make sure the List changes on a new sheet box is checked and click OK.
Setting Tracking Options
To set tracking options in Excel 2013:
Select the REVIEW tab, and from the Changes group, select Share Workbook.
On the Editing tab of the dialog box, check the Allow changes by more than one user at the same time check box.
Select the Advanced tab, and set tracking options and click OK.
Merging Multiple Workbooks
To merge two workbooks, first you need to add the Compare and Merge Workbooks button to the Quick Access Toolbar, if it is not already there.
To do so, select FILE > Options. Select Quick Access Toolbar. Select All Commands from the Choose Commands from list, and then select Compare and Merge Workbooks and click Add. Click OK.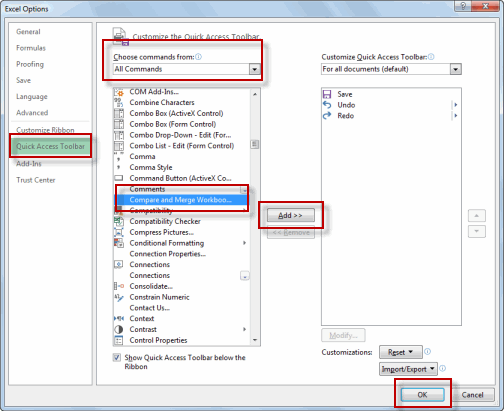 You can now use the Compare and Merge Workbooks option on the Quick Access Toolbar.