Webucator's Free Adobe Dreamweaver Tutorial
Lesson: Getting Started with Dreamweaver
Welcome to our free Adobe Dreamweaver tutorial. This tutorial is based on Webucator's Introduction to Dreamweaver Creative Cloud (CC) Training course.
Dreamweaver is an integrated development environment (IDE) for creating web pages and websites. It was first introduced in 1997 by Macromedia, which was taken over by Adobe in 2005. Adobe has since released several versions. In this lesson, we'll introduce you to the Dreamweaver interface and get you started with your first website.
Lesson Goals
Learn about the role of Dreamweaver in web development.
Learn about the Dreamweaver interface.
Create a simple web page.
Preview your web page in the browser.
Set up a website in Dreamweaver.
The Role of Dreamweaver
Experienced web developers need to know many different languages. For example, a really good client-side programmer needs to know HTML, CSS, and JavaScript - three very different languages. Dreamweaver makes it possible to develop websites without knowing these languages; however, as you'll see in this course, it helps to have some understanding of how the different languages work.
Dreamweaver also has a Code View that can be used for writing many different client-side and server-side languages.
Start Screen
When you first open Dreamweaver, it presents you with a Start Screen with some quick links for opening recent items, creating new documents, and viewing video tutorials.
You may need to click Edit > Preferences... and remove the check mark from Show Start Screen in the General category if you wish to stop the screen from opening each time you open Dreamweaver.
Dreamweaver Workspaces
Dreamweaver comes with predesigned Workspace Layout options, listed below:
You can switch between workspace layouts using the drop-down on the upper right of the application bar: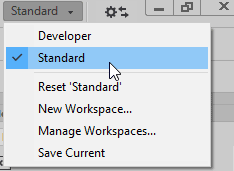 In this course, we will be using the Standard layout, which you can reset at any time by selecting Reset Standard.
Creating HTML Pages
There are several ways to create new HTML pages in Dreamweaver:
Click on HTML Document under Quick Start on the Start Screen.
Select New... from the File menu.
Press CTRL+N on the keyboard.
The Start Screen option will create an HTML document using your default settings, which you can change (we will see how later in the course). The other two options will pop up the following dialog box:
To create an HTML page using the default settings, simply click the Create button. We will look more into the other options later in the course.
Code View vs. Design View
There are three main views for editing documents, plus an additional option:
Code View - you work directly in the code.
Split View - you easily toggle back and forth between working in Code and Design View and see your changes in both places.
Design View - you work in the WYSIWYG (What You See Is What You Get) interface that feels like a word processor.
Live View - you can preview and edit within Dreamweaver.
Use the buttons in the center, below the toolbar to switch views:
.
In this course, we will generally be working in Design view. You might, however, want to switch to Split view from time to time if you are interested in seeing the code that Dreamweaver is creating as you work.
Creating a Web Page
Duration: 10 to 15 minutes.
In this exercise, you will create and view a simple web page.
Create a new HTML page using any of the methods described above.
Place the cursor on the page and type "Hello world!".
Save the page (File > Save) as

hello-world.html

in your

ClassFiles/dreamweaver-cc/Exercises

folder.
When you are done, your page should look something like this:
Select New... from the File menu.
In the New Document dialog box that pops up, click Create.
Type "Hello world!" in the document.
Save the document as

hello-world.html

in your

ClassFiles/dreamweaver-cc/Exercises

folder.
The Dreamweaver Interface
Panels
All of Dreamweaver's tools are contained in various windows and panels. Panels are divided and organized into a series of Panel Groups based on the functions they contain. You can control which of these panel groups is visible by selecting and deselecting them in the Window menu. The checked items are currently showing:
Insert Panel
The Insert panel (shown below) allows you to insert various "objects" (such as tables, forms, and images) into your page. You can format or set attributes for these objects as you insert them.
The Dreamweaver Insert panel has several groupings of related objects, here are a few:
Common (shown above HTML) - for most commonly used objects.

Structure - for divs, and lists.
Media - for media elements.
Form - for form components.

jQuery Mobile - for building jQuery Mobile pages.
jQuery UI- for building jQuery User Interface.
Templates - for creating template regions within pages.
Favorites - can be customized to display just the options that you use most often.
You can switch between these groups using the drop-down at the top left of the Insert panel:
The group options are shown below:
You can also drag the Insert panel below the Application Bar to give it a tabbed horizontal layout:
Many of the elements available in the Insert panel will be discussed in detail throughout the course.
Collapse All Panels
To collapse all the panels in the right column, click the arrow icon shown in the image below (in red square):
Click the arrow again to re-open the panels.
You can also open and close panels individually by clicking on the panel name: once to open and twice to close.
To completely hide all panels, press F4. Press F4 again to reshow them.
Properties Inspector
The Properties Inspector (shown below), which appears at the bottom of Dreamweaver in the Designer workspace, is context-based, meaning it will change depending on what type of object is selected. For example, if text is selected, text properties will be visible; if an image is selected, image properties will be visible, and so on:
Every page element can be customized via the Properties Inspector. For example, text can have a specified font, size, and style. Images can have a specified height, width, and source. To customize an element, select it within the Document Window (the main editing area) and make alterations via the Properties Inspector.
The Properties Inspector is split into two sections: HTML and CSS. Click on the HTML or CSS icons on the left side of the inspector to switch between the two.
Note: When the CSS icon is selected and you attempt to change properties of text, Dreamweaver will automatically create a new inline CSS rule. These rules will all be covered later in the course.
CSS Styles Panel
The CSS Designer panel shows up by default in the workspace. We will cover CSS later in the course. For now, you can collapse it by double-clicking on the panel name.
Files Panel
The Files panel (shown below) keeps track of all of the files and folders within your site. It can also be used to browse the files on a computer or network just as Windows Explorer can be used to browse files.
Previewing Your Page
While you are editing a page in Design View, Dreamweaver attempts to give you a good reflection of how the page will appear in a browser, but that's not always possible (or even desirable). Dreamweaver does make it easy to view your page as it will appear in the browser either from within Dreamweaver itself or directly in one or more browsers. The new Live View uses Chromium Embedded Framework (CEF) to allow you to edit and make changes while getting a live view.
Real-time Preview
Before previewing a page in a browser, you must first set up you Real-time Preview preferences in Dreamweaver:
Select Preferences... from the Edit menu.
From the Category list, click on Real-time Preview:You may already see one or more browsers in the Browsers list.
To add a new browser to the list:

Click the icon.
Fill out the resulting dialog box. For example:

Repeat for every browser you want to be able to test. You can add as many as you like. Your primary and secondary browsers can be accessed with shortcut keys:

Preview in primary browser: F12 (Win) / Option+F12 (Mac)
Preview in secondary browser: CTRL+F12 (Win) / Command+F12 (Mac)

To edit an existing browser in the list, select it and click the Edit... button.
When you are done, your list will be exactly as you need it.

Notice that you can change your primary and secondary browsers by checking or unchecking the Defaults.
Live
Live view makes it possible to view your page as it will appear in a browser from within Dreamweaver itself. Simply click on the Live button. For simple pages, you will not see much difference between Design view and Live view. In Live view, however, you will be able to edit the page.

Device Preview
Device Preview allows you to not only connect using WiFi to multiple devices, but also preview in real time so you get a good feel for how your project is coming along without having to use a test environment.
To use Device Preview, you must have the following setup:
Put all of your devices on the same WiFi network.
Log in using your Adobe ID.
Click Real-time Preview in the lower-right corner.
Scan, type, or copy/paste the path.
Once that is accomplished, you may enjoy real-time edits and previews in all of your compatible devices.
Preview in Code View
You may now see a preview of an image in code view, taking the guess work out of what the image looks like and saving you time form switching back and forth from view to view. Simply hover over the reference and the preview will pop up.
Previewing a Web Page
Duration: 5 to 10 minutes.
In this exercise, you will modify your Real-time Preview settings (if you wish) and preview a page in different browsers.
Open

ClassFiles/dreamweaver-cc/Exercises/hello-world.html

in Dreamweaver if it's not already open.
Preview the page in Live View.
Preview the page in one or more browsers.
Make some small modification to the page and preview again.
Setting Up a Website
Follow these steps to set up your website for this course:
From the Site menu, select New Site... to open the Site Setup dialog box:
Enter "dw-class" for the Site Name and browse to the

Dreamweaver

folder within the course class files for the Local Site Folder:

Note: You may have stored your class files in a different location. That is okay. Simply refer to your location in Local Site Folder.

Click Save.
Your Files panel should now look like this: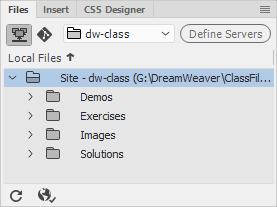 Open up the Exercises folder and you should see the hello-world.html file you created in the last exercise.
Pointing to Websites
When you point your browser to a website (e.g., www.google.com), the browser fetches a page from a web server somewhere on the internet. That web server is simply a computer with some special software on it for serving web pages and associated files (e.g., images). The server can deliver pages to many different clients (browsers) at the same time as shown below:
As a web developer, you may be responsible for putting your pages onto the web server. Different organizations handle this in different ways, but one common way is via File Transfer Protocol (FTP). We will show you how to set this up in Dreamweaver; however, in this course, we will simply view the files locally.
To reopen the Manage Sites dialog box, select Manage Sites... from the Site menu.
Select "dw-class" from the site list and click the pencil icon.
Click Servers on the left, and then click the plus symbol as shown below.
The options will change depending on how you connect to your website (e.g., FTP, Local/Network, WebDAV, RDS).
For our purposes, you can cancel out of these dialog boxes as we will not need to connect to a web server for this course.
Edit Preferences
As we saw when setting our preview browsers, you can edit preferences in Dreamweaver through Edit > Preferences...
As you become more familiar with Dreamweaver, you will want to come back to these options to see if you want to make changes to your preferences.