Introduction to Microsoft Outlook 2019 Courseware
Course Length: 1 day
Webucator's Introduction to Microsoft Outlook 2019 courseware provides a complete solution for delivering private and public classes.
Our courseware is authored by content-area experts with a great deal of training experience. Topics are broken down into small chunks, which are explained, demonstrated with sample files or applications, and then practiced with hands-on exercises.
When you license Webucator courseware, you get:
A printed manual with an optional custom cover.
A zip file containing the class files to be distributed to the students.
A zip file containing the class files and a PDF copy of the manual for the instructor to present.
Learn more about what to expect from our courseware.
Read testimonials from students, trainers, and companies who have used our courseware.
ProCert Approved
This courseware has been tested and approved by ProCert labs, the official tester of Microsoft courseware. The material has been found to meet the highest industry standards of instructional quality.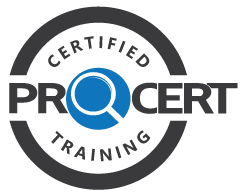 Note that Webucator courseware typically does not come with PowerPoint presentations. The instructor is welcome to project the PDF of the courseware itself.